LYCOTEC WHITE STRIP WAX XXX
with Titanium Dioxide, Micro Mica, Coconut Oil and Vanilla
A high-tech, smooth, creamy and extra gentle white strip wax, with a smooth texture that glides on ultra-thinly, making it very economical. Contains Coconut Oil, LYCON's unique Titanium Dioxide technology and Micro Mica for the most professional waxing result with no skin drag and no sticky residue!
Vegan friendly!
Cruelty Free | Gluten Free
AVAILABLE IN:
NEW!
Our NEW 397g Strip Wax Tins have been designed to fit directly into our new
LYCOPRO Mini Digital Wax Heater
. These tins offer all the same benefits of our 800mL strip waxes just in a smaller size!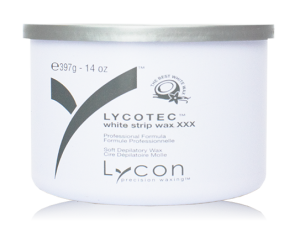 SKU: WSLL9504
RELATED PRODUCTS